College Golf Experience
Orange Tree Preview Camp
Orlando, FL
June 12, 2022
*Camp 
prECEDES the AJGA Ben An Junior All-Star
ORANGE TREE GOLF CLUB, Orlando, FL
CAMP PRICE – $495

Coach Lineup
Players will enjoy one-on-one engagement with every coach.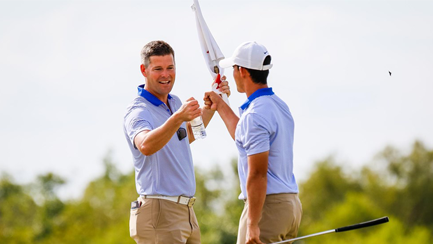 J.C. Deacon | Men's HEAD Coach | Florida
Entering his eighth season as head coach of the Florida Gators, JC Deacon looks to expand on the success of his first seven seasons with the Orange and Blue.
 
Deacon and the Gators returned to competition in a three-tournament fall schedule that featured SEC only play to combat the ongoing COVID-19 pandemic. Florida touted a new lineup that featured at least three newcomers in each tournament, recording its best finish at the Vanderbilt Legends Collegiate where a 24-under par score put the team in a tie for fourth place. Deacon lit the fire for the Gators heading into the winter hiatus, responding with back-to-back first place finishes in their first two tournaments, including the second straight win at the Gators Invitational.
 
The Gators qualified for their 54th NCAA Championship in program history after a gutsy final round in the Cle Elum Regional propelled the team into fifth place. Florida would see its season come to an end after three rounds of stroke play at the Championship, with Ricky Castillo qualifying individually for the final day of stroke play and ultimately finishing 12th in the field.
Deacon oversaw an incredible freshman duo in Joe Pagdin and Tyler Wilkes. Pagdin was named the 2021 SEC Freshman of the Year and the pair were both names to the SEC All-Freshman Team. In addition, Ricky Castillo earned a spot on the Second-Team All-SEC. Castillo and Pagdin were both named to the Division I PING All-Region Southeast Team.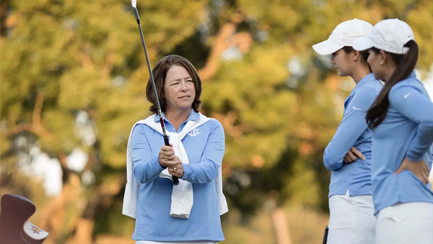 Julie Garner | Women's HEAD Coach | Rollins
Building one of the most storied women's golf programs in Division II is no easy feat. Now in her 25th season at the helm in 2020-21, Rollins women's golf coach Julie Garner has it down to a science.  This is Garner's third stint as head coach of the Tars as she took the reigns in 1984-87 and 1996-97 before rejoining the program in 2000.
On December 2, 2018, Garner was inducted into the Women's Golf Coaches Association (WGCA) Hall of Fame.
Garner closed the 2016 season as the WGCA Division II National Coach of the Year and led Rollins to the NCAA Division II National Championship.
Garner has led Rollins to a record six NCAA Division II National Championships while also finishing runner-up five times in her career. The Tars have also won seven of their record eight Sunshine State Conference Championships with Garner at the helm of the program.
Garner has been named the WGCA Division II National Coach of the Year four times (2003, 2006, 2015, 2016) and Sunshine State Conference Coach of the Year five seasons (2003, 2004, 2005, 2006, 2015).
She has coached six WGCA National Players of the Year (Charlotte Campbell 2003, 2004, 2005, 2006, Annie Dulman 2014, 2015) and three Sunshine State Conference Golfers of the Year (Jennifer Beames 2003, Charlotte Campbell 2004, 2006).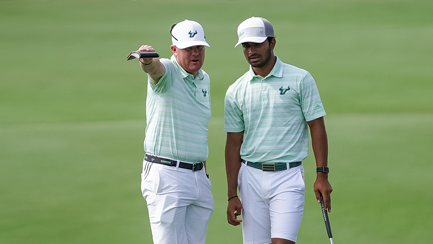 Brad Caldwell | Men's Assistant Coach | University of South Florida
The Bulls have won three team American Athletic Conference titles and two individual conference championships since his arrival. In both of Caldwell's first two seasons with the program, USF won The American tournament in wire-to-wire fashion and advanced to NCAA Regionals. The Bulls repeated that feat in 2021, winning by five strokes over SMU after setting a tournament single-round scoring record with an opening 18-under par 270.  Albin Bergstrom claimed the individual crown by firing a final round 66 to come from three strokes down. He was named USF Athletics Male Athlete-of-the-Year and earned his second PING All-Southeast Region Team honor. Sophomores  Bergstrom and Luke Gifford were both unanimous selections to the American Men's Golf All-Conference Team.
Capacity | 32 Golfers
In order to maximize engagement opportunities with coaches we limit the field at each camp.
Course | ORANGE TREE GOLF CLUB, Orlando, FL
Capacity | 32 Golfers
In order to maximize engagement opportunities with coaches we limit the field at each camp.
Course | ORANGE TREE GOLF CLUB, Orlando, FL
Schedule of events
June 12, 2022
8:00am – 8:15am | Registration
8:15am – 9:30am | Coach and Player Welcome, Introductions, College Golf and Recruiting Seminar
9:30am – 11:30am | Skills Stations and Challenges, Assessments
11:30am – 1:00pm | Lunch and Course Management and Strategy Seminar
1:00pm | Tee Times Begin for Simulated College Golf Practice Round
Camp Concludes at the conclusion of the player's round.
*Schedule is subject to change
Orange Tree Preview Camp
Orlando, FL
June 12, 2022
ORANGE TREE GOLF CLUB

Find Your Fit, Find Your Spot.
About College Golf Experience
College Golf Experience is committed to creating unique and transformational opportunities for junior golfers to connect with college coaches and learn about the college golf recruiting process. Our camps are open to any and all entrants limited only by number of participants, gender, and age.